STATE HIGHWAY 164
---
The creation of the Waterford Waterway Management District (WWMD), a public inland lake protection and rehabilitation district, formed in 2002 by the Racine County Board of Supervisors under Subchapter IV of Chapter 33 of the Wisconsin Statutes, in response to the petition of the riparian property owners, has provided an additional vehicle through which the citizens of the Town and Village of Waterford are seeking to maintain, protect and enhance their environment. Since its inception, the WWMD has sought to establish partnerships with both civic organizations in the Waterford area, including the Fox River CAUSE, a citizen-based nongovernmental organization, and governmental bodies, such as the Fox River Commission.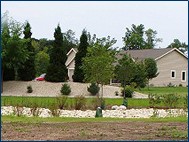 Rain Gardens
During 2007, the Fox River Commission and the WWMD joined forces in the conduct of a runoff management project that included the construction of "rain gardens" on properties upgradient of Tichigan Lake in the Town of Waterford, Racine County. Rain gardens are designed to minimize runoff from specific sites through infiltration.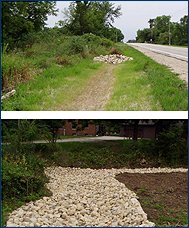 Swales
In addition, certain modifications were implemented within the swale along STH 164. These modifications are designed to slow the flow of water within the roadside ditches, minimizing erosion, and reducing the movement of pollutants to the Waterford Impoundment. The Fox River Commission contributed $45,000 toward the completion of these initiatives.